GPX / FIT file upload
For most events conducted via viRACE there is the possibility to transmit the time via GPX / FIT upload.
Good to know
How do I upload the time?
How do I export a GPX / FIT file?
Good to know
The entire file including warm-up and cool-down can be uploaded. The system filters out the fastest section with the given distance / time and uses this as the result.
ONLY .gpx or .fit files can be uploaded.
The upload can also be used to correct times (for example, if an incorrect result was transmitted due to problems with the settings).
How do I upload the time?
1. log in to your personal profile at https://virace.app with the same login data as in the app (User -> Log in).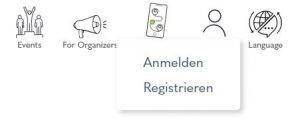 2. After logging in, you will be taken directly to the page with your events. Click on the corresponding challenge (if you are not yet registered, click on "Events" at the top and register for the desired course).
3. You are now on the info page of the event. If you scroll down here, the upload field will appear on the left side. Attention: The file to be uploaded must be a GPX or FIT file. You can upload the entire run including the warm-up. The system will automatically search the file for the race distance with the shortest running time).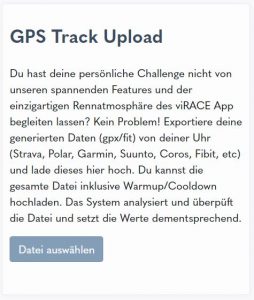 How do I export a GPX / FIT file?
Garmin:
The GPX file can be exported from the web version (not app) of Garmin Connect.
Log in
Select "Activities" and the corresponding run
Click on the cogwheel in the upper right corner and select "Export as GPX".
Suunto:
Open the app
In the list of your workouts, select the appropriate one
Click on the gear in the top right corner and select "Download FIT file"
Polar:
Open Polar Flow
Click on the corresponding training session
Click on 'Export training session' in the bottom left corner
Select the option Route (GPX)
Coros:
Open the Coros app
Open tab 'All workouts
Select the appropriate workout
Click on the export icon in the top right corner (box with arrow)
Select 'Export Data
Select either '.fit' or '.gpx'.
Select 'Download
Strava
Log in to your Strava account
Click on the desired activity
Select 'Export GPX' from the menu (three dots)